ACE Climate SABC – Haramaya University was represented by Dr. Bobe Bedadi, Deputy Center Leader and Training and Research Head at Grand Challenge Annual Meeting conducted in Dakar, Senegal from 08 to 11 October 2023. Launched in 2003 by the Bill and Malinda Gates Foundation as a flagship program, Grand Challenges, focuses its funding on pressing global health and development problems that affect the world's poorest people, using open calls for proposals to crowdsource potential solutions.
Partial view of participants of Grand Challenge Annual Meeting in Dakar, Senegal (08-11 October 2023)
Over 1,400 participants (scientists, policymakers, donors, etc.) from all over the world attended the meeting. The 2023 Grand Challenges Annual Meeting in Dakar was hosted by the Global Grand Challenges Network of Partners and the Government of Senegal, and sponsored by Grand Challenges Canada, the United States Agency for International Development, Wellcome, and the Gates Foundation.
The four-day meeting was organized into several plenary sessions and side events. Keynote speeches were delivered by H.E. Macky Sall, the President of the Republic of Senegal; Bill Gates, Co-Chair, Bill & Melinda Gates Foundation; H.E. Azali Assoumani, President of the Union of Comoros and Chairperson of African Union. These leaders also made a high-level conversation under the theme " The role of leadership in catalyzing Innovation".
The meeting also involved a lot of poster presentations and networking events. Dr. Bobe made a presentation on Research Program Management with a focus on experiences, achievements, contributions, and challenges of the ACE Climate SABC – Haramaya University on the side event organized on Catalyzing Systems-level Agriculture Climate Adaptation in Africa which was followed by a Panel discussion.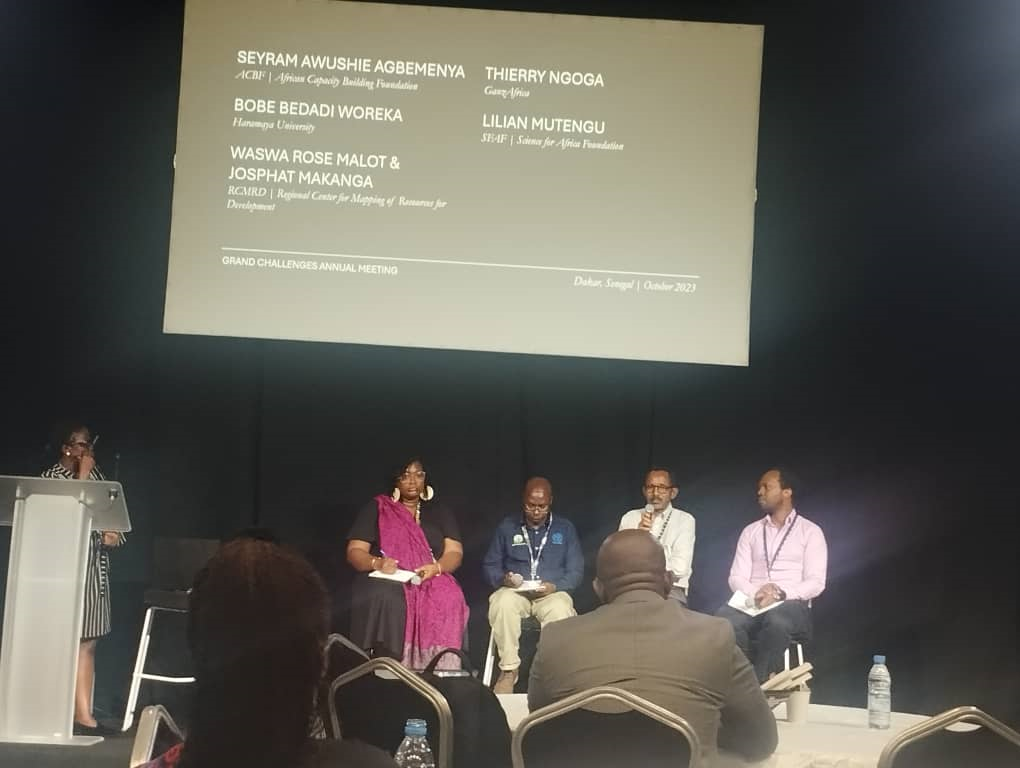 Panel Discussion on Catalyzing System -level Agriculture Climate Change Adaptation
The meeting created great opportunities for networking with potential partners, sharing experiences with peer institutions, and learning best practices from advanced institutions.
Partial view of Ethiopians that attended the GC Meeting in Senegal
ACE Climate SABC – Haramaya University acknowledges the Bill & Melinda Gates Foundation for covering the cost of its delegate to participate in this high-level meeting.